---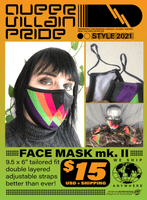 Did you order the Mark I QVP face mask? Use code MARK2 at checkout to get 20% off your order of a Mark II mask, from now until March 8th!
The wait is over! We've taken user feedback into account and are proud to present a bigger, better QVP face mask!
These masks are larger, with a 9.5 x 6" fabric portion that is tailored to fit comfortably over your nose and chin. Adjustable ear straps allow you to fine-tune the fit to your exact preference. In addition, our new masks are double-layered, with a soft cotton inner layer and a colorful, sturdy polyester outer layer. Twice the layers means twice the germ filtration, so you can stay extra safe while looking extra dangerous!
As a final aside, these aren't medical-grade masks, in case you were planning on, say, doing impromptu brain surgery on your next caper. But for cavorting around the city or attending socially-distanced sinister summits, these are perfect!
Wondering what the deal is with Queer Villain Pride? Read more about the flag here: http://distressedegg.fun/qvp.html